TRUE BREW INTRADE COFFEE LAUNCH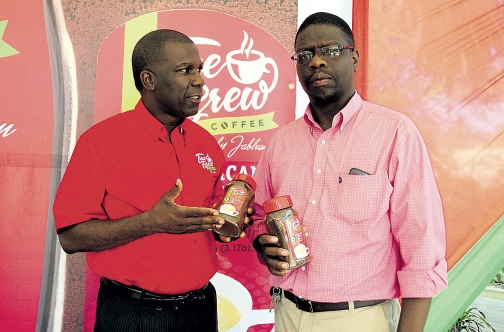 KINGSTON, Jamaica… July 4, 2014
Mavis Bank Coffee Factory CEO, Norman Grant (left), and the coffee producer's commercial and marketing manager, Howard Findlator, show off the company's latest product innovation — True Brew, a granulated instant coffee.
The Mavis Bank Coffee Factory will be launching its new coffee product with an In Trade Launch on Tuesday, July 8th, 2014 at The Pavillon Hope Gardens commencing at 12:00 pm to 2:00 pm. The island's top wholesalers and supermarket owners will be in attendance at this event as well as board members of Mavis Bank Coffee Factory, Jamaica Producers Group and Pan Jam Investment Trust. Senator Norman Grant will address guests, introducing the company's newest coffee product which will share the same quality as other MBCF brands such as Jablum (Jamaica Blue Mountain Coffee).
True Brew Instant Coffee is the first agglomerated instant coffee product made by a Jamaican Coffee Company with all the competitors in this category being imported brands. This new coffee product is made with the highest quality coffee beans from Jamaica and a proprietary blend of coffees from across the Caribbean; True Brew will deliver the greatest satisfaction to consumer within its product category. The brand offers to consumers a wide range of varietals, convenience of use and purchase and a promise to consistently deliver the highest quality product available on the market; guarantees that will assist the brand's largest targeted consumer segment which is youth drinkers to move ahead successfully in their hectic and demanding 21st century lives.
Sitting in the lofty, misty hills of the Blue Mountains, Mavis Bank Coffee Factory is home of the internationally renowned Jablum (Jamaica Blue Mountain) Coffee and Jamaica's largest and fully integrated Jamaica Blue Mountain Coffee facility. Its operation dates as far back the 1920s and today its processes approximately 1.0 million pounds of green and roasted coffee products s which it sells to buyers all over the world, its main buyers being from Japan, United States, Europe, China and other territories in the Caribbean.