Local Farmers to Benefit from Canadian Hunger Foundation Project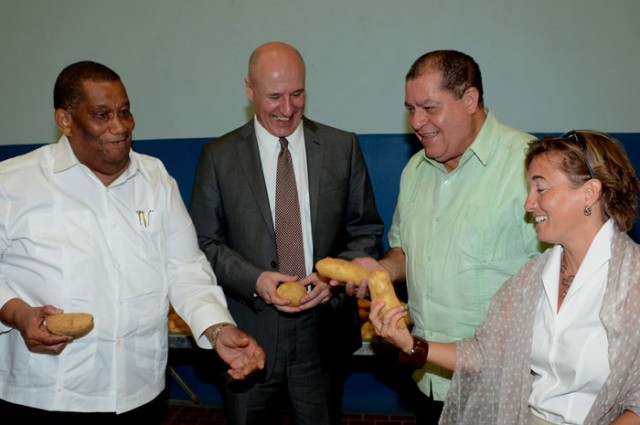 Jamaican farmers and food processors are among over 28,000 in eight Caribbean countries who will be assisted by the Canadian Hunger Foundation (CHF) over the next six years.
They will receive assistance to tap into markets being targeted to absorb as much as approximately $10 billion (C$100 million) worth of produce and products, under major initiative currently being rolled out.
The project, dubbed: 'Promotion of Regional Opportunities for Produce through Enterprises and Linkages' (PROPEL), is a $2 billion (C$20 million) undertaking aimed at significantly reducing the Caribbean's food imports and increasing farmers' and processors' access to external markets. This will be done by enhancing the quantity and quality of the region's agricultural outputs through a range of measures.
These include: the provision of technical training to farmers; establishing agricultural demonstration plots; and engagements aimed at generally improving and expanding farm operations.
The project will also provide targeted support for an additional 1,500 young entrepreneurs to either undertake farming or agro-processing businesses, as well as facilitate full participation by women in engagements to fulfil the needs and demands of a wide range of high-value markets.
A Caribbean Produce Marketing Corporation (CPMC) will also be established under the project, to serve as a broker between small and medium-sized farmers, and large buyers
This entity will take orders from buyers and issue contracts for farmers to supply fresh produce at a specific quality and quantity for delivery.
Other countries that will benefit under PROPEL, which was formally launched in Coleyville, Manchester, on Tuesday (June 3), include: Barbados; Dominica; Grenada; Guyana; St. Lucia; St. Vincent and the Grenadines; and Trinidad and Tobago.
Funding is being provided jointly by the Canadian Government, through the Department of Foreign Affairs, Trade and Development (DFATD), and CHF.
Speaking at the launch, Agriculture and Fisheries Minister, Hon. Roger Clarke, welcomed PROPEL, and extended gratitude to the Canadian Government and CHF for facilitating the initiative.
Mr. Clarke noted that Jamaica continues to grapple with "serious challenges", notable among which is the country's annual food imports exceeding exports.
"We are talking about importing four times as much as we export, and that is not sustainable. Therefore, what PROPEL is trying to do, is to really work with us to see how much we can expand production and our exports, both in the region and into…wider (markets),' he stated.
The Minister pointed out that Jamaica is currently at the stage where farmers are "beginning to satisfy local demand." Against this background, he pointed to the possibility of outputs surpassing demand, hence the importance of tapping into overseas markets.
In her remarks, Counsellor and Head, Development Cooperation, Department of Foreign Affairs, Trade and Development (DFATD) on Jamaica, Marie Legault, said PROPEL is among 25 development programmes, in which the Canadian government has invested $40 billion (C$400 million) for implementation.
She pointed out that the overall programme portfolio aims to increase economic growth and, in the case of PROPEL, doing so through the value chain, and working with farmers and producers.
The CHF's Chief Executive Officer, Stewart Hardacre, argued that PROPEL is "good for business…(in) Jamaica…(and) the Caribbean."
He pointed out that national and regional farmers' networks in the Caribbean will play key roles in supporting farmers improve the size and quality of their harvests. Additionally, the Caribbean Farmers' Network (CaFAN) is expected to enhance capacity through the project, to better meet members' needs.
"There is much work to be done. But…we are well on our way to seeing the day when more fresh produce (imported into the region) will be reduced by Caribbean farms' (enhanced) outputs. In total, we expect over 75,000 additional people will also benefit, as family members, employees, and other members of producers groups, as new job opportunities are created and farming incomes increase," he added.
The Canadian Hunger Foundation is a 52 year old non-profit organisation that has worked in over 50 countries in Asia, Africa, and the Americas, to empower the world's most economically challenged nations increase their income and sustainably produce food that better meets their nutritional needs.
The organisation is currently implementing nine projects in 16 countries that support 450,000 people, in their communities.
The CHF has been operating in the Caribbean for over 18 years, where it has a strong history in developing the capacity of producer groups and institutions.