Jamaica 4-H Clubs 75th Anniversary Celebrations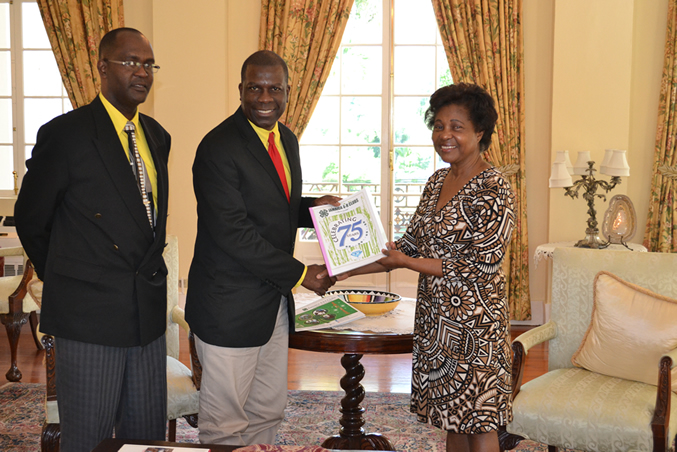 Her Excellency, the Most Honourable Lady Allen (right) accepts a schedule of the Jamaica 4-H Clubs 75th Anniversary from 4-H Clubs Chairman, Senator Norman Grant during recent Courtesy Call at Kings House. Sharing in the moment is Executive Director, Jamaica 4-H Clubs. The Jamaica 4-H Clubs will observe 75th Anniversary activities from April 1, 2015 to March 31, 2016.
Her Excellency, the Most Honourable Lady Allen has consented to be the Patron of the Jamaica 4-H Clubs 75th Anniversary Celebrations which officially kicks off on its Founders' Day, April 1.
During a courtesy call at Kings House on Friday, Lady Allen expressed pleasure about being involved in the celebratory activities. "This is very easy for me to do; I am who am because of the 4-H Clubs," she said.
The Jamaica 4-H Clubs which is the youth training arm of the Ministry of Agriculture and Fisheries was formed on April 1, 1940 as the juvenile arm of the Jamaica Agricultural Society, (JAS).
Chairman of the Jamaica 4-H Clubs Board of Directors, Senator Norman Grant who lead the visiting party, explained that activities for the 75th Anniversary will continue until March 31, 2016.
"Over this period we intend to expand the reach of the 4-H Movement by engaging youth and highlighting the work of the Jamaica 4-H Clubs," he said. He added that with the growth of general membership to approximately 87,000 the Movement has been over the years placing greater emphasis on training opportunities to other areas including youth entrepreneurship.
"We are expanding our youth entrepreneurship models, expanding the School Garden Programme as well as preparing to launch a major Youth Entrepreneurship Economic Programme where we will be rolling out an entrepreneurship cradle," Grant said.
At present, there are 438 registered school gardens in the National School Garden Programme.
"We have to do a lot more to empower the youth, especially seeing that unemployment among the youth now stands at some thirty nine per cent," he added.
In accepting her role as Patron, Lady Allen said she was "excited" about the expansion of the School Garden Programme. Citing her love for farming and gardening, she remarked that her love for farming came out of her involvement in the 4-H Movement.
Activities on the 75th Anniversary calendar will be the launch of the 75th Anniversary and the National Achievement Expo on April 1. Other major highlights will include a National Church Service in April, the National Achievement Expo over the period of April 22 – 24 as well as a "Black-tie" Awards banquet in November.
Also sharing in the courtesy call were 4-H Clubs Executive Director, Ronald Blake and Public Relations and Marketing Manager, Karelle McCormack.