ISO Conference Successful – Agriculture Minister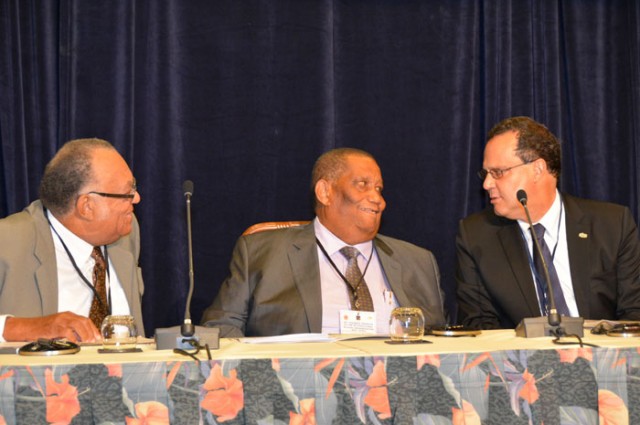 Minister of Agriculture and Fisheries, Hon. Roger Clarke, has affirmed confidence in the future of the sugar cane industry, as the 45th Council Session of the International Sugar Organization (ISO) Conference, comes to a close at the Hilton Rose Hall Resort and Spa in Montego Bay, St. James.
The Minister described the three-day conference, which started on May 27, as "very successful and fruitful".
Addressing a media briefing last night (May 28) he informed that the rich exchange of ideas and information has deepened the stakeholders' appreciation of the changing scenario, and the emerging paradigm shift in the industry globally.
"The last few days have been very engaging with respect to our deliberations on the challenges and prospects of the global sugar cane industry … there are new horizons, new challenges and new opportunities ahead of this industry which has been the lifeblood of many livelihoods, communities and economies, not just in Jamaica and the Caribbean, but indeed across some 120 countries," Minister Clarke observed.
He further stated that in this new dispensation, there was competition in the market from other non-natural sweeteners; common threats posed by negative consumer perceptions and health related issues; and the current low price environment.
"On examining these issues which can largely be characterized as negative, our discussions in this forum have given us food for thought and have provided us with the assurance that sugar cane still remains the gold standard for sweeteners," he said.
Additionally, he said that in spite of negative consumer perceptions fuelled by inaccurate reports, sugar still enjoys the pride of place as a natural sweetener.
"In this scenario, sugar producers are challenged to adopt strategic solutions for the promotion and marketing of the product," Mr. Clarke told journalists.
He observed that the call to prepare and position the region for new market frontiers was underpinned by factors such as: prospects for diversification into such areas as the co-generation of electrical power; opportunities for improved productivity; and the burgeoning market demands from East Asia and Africa.
Minister Clarke said Jamaica was pleased to host the forum, and welcomed the committed efforts of global stakeholders through the ISO to: ensure enhanced international cooperation in connection with world sugar matters and related issues; provide a forum for intergovernmental consultations on sugar and on ways to improve the world sugar economy; and facilitate trade by collecting and providing information on the world sugar market and other sweeteners.
"This conference has soberly placed in perspective the challenges we face as sugar cane industry producers. It has also however, affirmed our faith in the future of the industry," the Minister asserted.