Denbigh Promises Exciting 2014 Package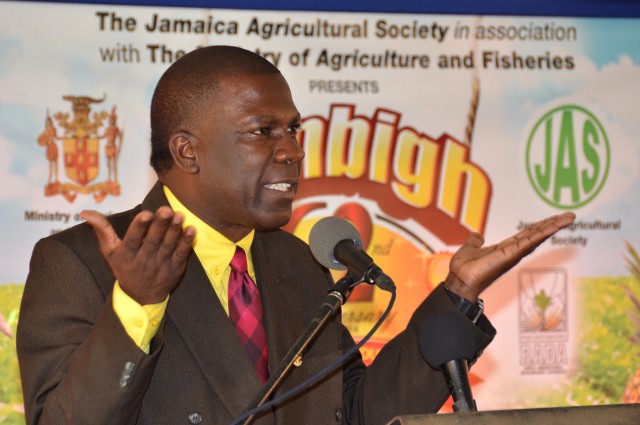 The annual Denbigh Agricultural, Industrial and Food Show scheduled for August 1 to 3, in May Pen, Clarendon, will once again showcase the best of the sector, while facilitating business links for farmers.
Patrons attending the three-day event will enjoy the experience offered by the children and family hub; the tourism linkages hub; the health and wellness hub; the Denbigh green hub; and the youth in agriculture hub.
President of the Jamaica Agricultural Society (JAS), Senator Norman Grant, says the show serves to highlight achievements in agriculture, and will also feature Emancipation celebrations.
"The show serves as a constant reminder to us of what we have achieved in the agricultural sector, and the related sectors, because agriculture provides a platform of linkages between manufacturing, agro processing, the tourism sector, the service sector, and export sector," he said, while addressing the launch on June 4, at ACE Supercentre, in White Marl, St. Catherine.
Senator Grant informed that with the approximately 100,000 patrons expected, the Jamaica Urban Transit Company (JUTC) will be transporting persons.
"We will have a park and ride service with JUTC in Spanish Town, Half Way Tree, and Portmore.
We have strategically chosen August 1, 2 and 3, to reignite the spirit of Emancipation," he said, noting that this year's event is likely to have one of the largest contingents of agricultural officials from other countries.
Senator Grant said there will be special emphasis on children in agriculture.
"The children and family hub will focus primarily on teaching children about agriculture in a fun way through games, rides, and agriculture-based activities.
Children at a young age are impressionable and it is an opportunity to sow the seeds of agriculture in their minds, in this way, the future of agriculture can be protected," he told the audience.
The JAS, while making the event fun-filled will also provide educational information on health, business, and climate change.
Patrons will also have access to free basic health checks, and screening.August 1, will feature the Denbigh global trade symposium, and Digicel Rising Stars performances, while August 2 has been dedicated to youth in agriculture, and the National Farm Queen Coronation.
On August 3, Prime Minister, the Most Hon. Portia Simpson Miller, will deliver the main address, followed by the Jamaica Broilers Gospel Night, featuring a host of stars in gospel music.